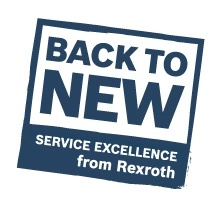 NEWS > Back to new for Rexroth
AC Hydraulics is offering customers a fixed price, BACK TO NEW service exchange programme for Bosch Rexroth A10VSO Variable Hydraulic Axial Piston Pumps. This programme is designed to help customers save time and money as well as increasing machine uptime. AC Hydraulics will exchange old Rexroth pumps with factory refurbished BACK TO NEW pumps that are fitted with genuine Bosch Rexroth parts and supplied with a manufacturer's 12 month warranty. There is a free UK collection service and experienced AC Hydraulics' technicians are available to support you through the entire process from fault diagnosis and pump strip out through to replacement, re-installation and re-commissioning. To find out more, contact 01455 611116 or email: info@achydraulics.co.uk.

NEW Bosch Rexroth A10VSO Hydraulic Variable Displacement Axial Piston Pumps are available to buy online now from our website shop.